French memorial winner announced
The winner of the architectural contest for the French memorial at Wellington's Pukeahu National War Memorial Park was announced during the New Zealand Architecture Awards ceremony on Friday 11 November in Wellington.
The design Le Calligramme, entered by Patterson Associates, was chosen from the 43 submissions received for the competition. The team behind Le Calligramme consisted of architect Andrew Patterson, Tom Dobinson of Patterson Associates, artist Paul Baragwanath and landscape designer Suzanne Turley.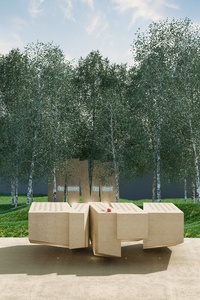 The jury comprised Florence Jeanblanc-Risler (Ambassador of France in New Zealand); Stuart Gardyne (director at architecture +); Myriam Achari (French Ministry of Defence director of Remembrance, Heritage and Archives); Yves Le Maner (history professor and First World War Centenary Commission scientific committee member) and Sarah Dennis (former Ambassador of New Zealand in France). 
The jury appreciated the "evocative power and simplicity of the design of this project, its material and aesthetic durability, its perfect integration with the context of the park and the landscaping proposed and the double evocation of the two countries' shared histories and the future of their relations".
Mrs Jeanblanc-Risler said, "This memorial will be a piece of France in New Zealand. The monument will honour the longstanding bonds between our two countries, the shared values and aspirations that have shaped our history. It will also provide a legacy to the new memories we are creating today together."
Jean-Marc Todeschini, French Secretary of State for Veterans and Remembrance, along with his New Zealand counterpart, Veterans' Affairs Minister Craig Foss, will unveil the plaque of the memorial during a ceremony on the morning of November 18, on his official visit to New Zealand. The French memorial will be constructed in 2017 and inaugurated in 2018.
The contest was organised in partnership with the New Zealand Institute of Architects and in close collaboration with the New Zealand Ministry of Culture and Heritage and Wellington City Council.
More information about the competition here.