Latest edition of Architecture NZ out now
The Frankfurt Book Fair pavilion, Christchurch Civic Building, Fo Guang Shan Pagoda, Broadcast Tower and the Directory of NZIA Practices 2013 all feature in the latest issue of Architecture NZ, out now.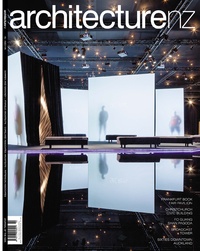 Patterson Associates' Andrew Patterson discusses the process of designing and building New Zealand's Frankfurt Book Fair pavilion in Germany, which attracted 90,000 visitors late last year. The interview is by Justine Harvey with stunning photography by Jean-Luc Laloux. The cover photograph was shot by Stefan Shilling (and no, that's not MC Hammer standing behind the right hand screen).
Charlie Gates writes about Athfield Associate's contemporary revamp of a Brutalist monolith, the Christchurch Civic Building, with photography by Simon Devitt.
Architecture meets landscape at Warren and Mahoney's Fo Guang Shan Pagoda in Flat Bush, Auckland, reviewed and photographed by David Cowlard.
Bill McKay reviews "a box done well": Copeland Associates Architects' Broadcast Tower in Auckland, with images by John Dymond.
In Across the Board, Anthony Vile discusses competitions, John Walsh farewells Gerald Melling, and Dennis Smith's provides a fascinating Short History of Sixties Downtown Auckland.
In Reviews, Julia Gatley writes about the Prefab: Cottage to Cutting Edge exhibition at Puke Ariki museum and art gallery in New Plymouth and the accompanying book by Pamela Bell and Mark Southcombe; while Russell Walden reviews a new Thames and Hudson book, Le Corbusier and the Power of Photography.