The ArchitectureNow On The Rise series, supported by Resene, focuses on up-and-coming young designers and architects from across New Zealand. For the fourth interview in the six-part series, we talk to Ed Dromgool, an architectural graduate at Warren and Mahoney's Auckland studio.
AMH: Why did you choose to study architecture? 
ED: I've always been interested in graphics and enjoyed finding solutions for problems. Dad was an engineer by trade, so he was always working on various DIY projects around the home. I think this definitely had an impact on my passion for design and construction.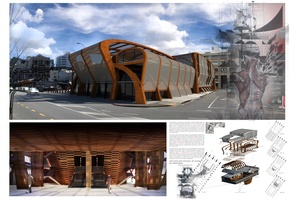 My interest in architecture grew throughout my time at Christchurch Boys High. After school I took a year off to go travelling and when I returned to New Zealand, I enrolled in architecture school at Victoria University in Wellington. Having that gap year was really beneficial for me; I don't think I would have had the same motivation if I had gone straight to university with no break. 
AMH: You were at Victoria's School of Architecture for five years, what was your time like there?
ED: I really enjoyed my time at Victoria. I had some excellent tutors and a good group of mates who were also studying architecture. My girlfriend also studied interior architecture at the same time.
The final year – working on my thesis – was the most enjoyable. Having a whole year to work on a project of my choice was good, firstly because it was something I was really interested in, and secondly, because it allowed me the time to develop and refine my ideas.
AMH: Can you tell me a bit about the Victoria University Summer Scholarship that you won in 2013 and where that led you?
ED: One of our lecturers, Daniel Brown, who had previously worked and lived in India, offered a Summer Scholarship to four students to look at resilient housing in South India – researching and designing flood mitigation and storm proofing systems for slum dwellings in Chennai. We were fortunate enough to travel to South India for two weeks to carry out site research. This was an amazing experience that opened my eyes to the diverse capabilities of architecture.
From this work, I gained an interest in how architecture can be used to shape communities and mitigate environmental and social issues, which led me to my thesis topic.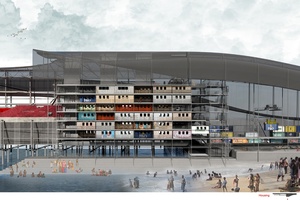 AMH: What are some of the ideas behind your final thesis Living on the Edge, which was based within a ship breaking community in India?
ED: After my time in India with the scholarship, I was inspired to do something in the area. My supervisor suggested I did some research into the ship breaking yards of the coastal town Alang. After a little research, it became apparent there were many issues within the ship breaking industry that needed to be addressed.
The final design for my thesis kept evolving through research. My supervisor, Kevin Sweet, has a very functional and systematic approach to design. I enjoyed this way of thinking – producing architecture that had a lot of research behind it made the project feel a lot more plausible.
My design was inspired by concepts of biomimicry, for example the roof is based on the Namibian desert beetle, which harvests its own fresh water to survive in the desert. In my project, the roof supplies water to the community and inhabitants.
In order to mitigate the toxic waste from the ship breaking industry, I came up with a system that uses locally-farmed cotton as the main material to act as a natural absorbent for the oil spilt during the ship breaking process, which has the added benefit of attracting females into the male-dominated industry. This creates opportunities to have families working and living on site, creating a better community, with the potential for economic growth.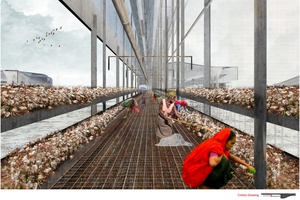 Overall, the incorporated system combines to create a self-sustained ecosystem that provides a better working and living environment for the inhabitants.
AMH: Do you think there's any possibility that the project, or part of it, becomes a reality?
ED: It would be amazing if even part of the thesis becomes a reality one day or if the research leads to improving the lives of people working in the shipbreaking yards, however I highly doubt anything will change anytime soon in Alang, as most shipbreaking lots are privately owned.
What was interesting about this project for me was exploring how architecture can be used as the main driver to potentially solve a range of environmental, social and economic issues in the future.
AMH: You've entered several awards including the RIBA President's Awards, the Interior Awards and the New Zealand Timber Awards. Why do you think it's important to enter awards, and what does being involved in the process bring to your career?
ED: I think it's important to showcase some of your work, as you never know what opportunities may come from it. The RIBA President's Awards are internationally recognised and feature some incredible projects. I would often look to many of these projects when I needed some inspiration at university. Having a project in these awards had always been a goal of mine, so I was stoked that my thesis was one of the two from Victoria that got put forward.
With the Interior Awards, it was an opportunity to showcase and present Living on the Edge alongside some extremely talented designers.
AMH: You also undertook an internship at Chow:Hill in your fourth year at university. How did you find that?
ED: It was a great learning opportunity. I was there for three months and worked with some really talented people. I was lucky enough to contribute to an educational project that had a very strict budget, which taught me a lot about what working in the real world involves!
AMH: Yes, that's why it's so inspiring when schools like Tarawera by RTA Studio are built – they look great and are highly functional, but have been created with a minimal budget. So would you recommend other students undertake an internship if they can?
ED: Definitely. I really enjoyed having the opportunity to apply some of the knowledge I had gained at university in real life situations. One of the best things about doing an internship is that you become a little more prepared for the architecture world after university. You learn a lot in a short period of time.
I think it would be really beneficial if it was compulsory in architecture school to do some sort of internship in the fourth or fifth year to better prepare you for when you finish.
AMH: What do you think were some of the most important aspects of architecture that you learnt at university?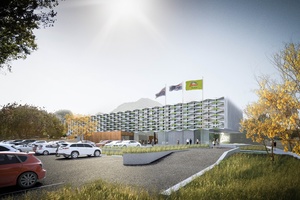 ED: The amount of projects you complete in your five years at university gives you plenty of opportunities to explore each project with a different design approach. I think this is really beneficial as it allows you to develop your design skills. University is a great environment to push the boundaries of your own thinking without having any real world constraints.
AMH: You've been at Warren and Mahoney Auckland for just over a year now, how are you enjoying it?
ED: It's been really good. Being a large design firm, it is fast paced and has a lot of benefits. There are a lot of people to learn from, which I think is important as a graduate. There are also a lot of other grads, which keeps it fun and gives you an instant support network. Although I really enjoyed Wellington, five years there was enough for me – the plan was always to move up to Auckland when I finished university.
AMH: Is being in practice different to how you imagined it would be at school?
ED: No, not really, though I was surprised at how fast paced the design process can be, particularly while working on competitions, when you are going flat out to explore all the design options possible. The pressure to get a scheme out the door brings back lots of memories of last minute efforts at university to get an assignment done on time!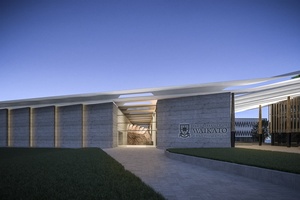 AMH: Can you tell me about any projects that you're currently working on at Warren and Mahoney?
ED: I'm working with Tom Locke on an awesome project over in East Tamaki, Auckland. It's a combination of office, manufacturing and distribution space with a GFA of 36,000 square metres. The client is also driving facilities management with the use of BIM and technology throughout, which is definitely new to me. I've been on the project since the concept design phase and it has really opened my eyes to the benefits of technology such as BIM and what it can do for architecture.
AMH: What aspects of the job do you enjoy the most thus far?
ED: Definitely the design side – sitting down and solving problems. At Warren and Mahoney I have been exposed to a variety of projects, which has always kept work interesting. One competition I enjoyed working on was the design for a multipurpose and marae facility at Waikato University. Currently, I am working on the detail design phase for a project, which is new to me and quite technical, so there is a lot of learning each day.
AMH: What's one piece of advice that you'd give to current architecture students?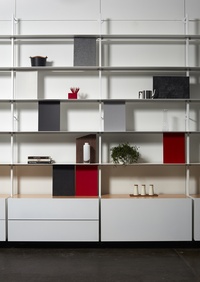 ED: Enjoy university as much as you can. Be open to different tutors' views on approaching design and don't be afraid to push the boundaries on each project – that's what uni is for. There's a lot of pressure on getting good grades at architecture school, but it's important to have fun and keep a good life balance.
AMH: Where do you see your future in architecture? Is there a direction you see yourself going towards?
ED: I think the beauty of architecture is that it can take you anywhere; there are so many different paths you can go down with the skills you learn through architecture. Once I have my registration, I'd like to gain some more overseas experience, maybe in India where there's a range of social issues that I could help out with.
AMH: Who are some of your design influences?
ED: There are a couple of people and practices – Norman Foster, Bjarke Ingels and SANAA, all for various reasons. I also really like the work of Tom Kundig. His use of raw material and celebration of machines is something I really enjoy in his buildings, emphasised in the Chicken Point Cabin design.
AMH: You work in the Mason Bros building in Wynyard Quarter, which is rapidly changing. If you could undertake a project in the area what would you like to work on?
ED: I am huge fan of the America's Cup; the design of the boats are amazing. If we win, it would be great to design a public building for the next America's Cup event in New Zealand. I also think designing a new ferry terminal would be quite cool.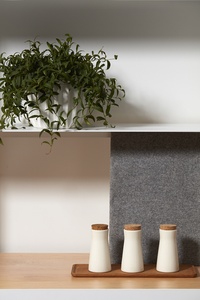 AMH: As part of the series we asked you to create a type of mood board to illustrate your influences and inspirations. What ideas are behind this and why did you use these particular Resene colours (Triple Rakaia, Gumboot, Poppy and White Thunder)?
ED: My mood board was inspired by structure and simplicity. I have used a neutral base palette, consisting of subtle grey and white tones, offset with the use of a bold colour and raw, natural and machined materials – wood, slate, stainless steel and glass.
With the neutral background alone, the canvas appears very flat. Through the introduction of bold colour, texture and objects a sense of depth and space is created. Arranging these in an ordered way within a repetitive structure allows the wall to be read in sections, at a range of depths and scales.
AMH: Finally, what are five essential things you need to do your job properly?
ED: The main one for me is getting some fresh air during the day. There's a great culture at Warren and Mahoney to go out and get some exercise at lunchtime. It makes the day go a lot easier and freshens you up for the afternoon. And then banter – you've got to have good banter. Lastly I would say coffee, music and constant learning! If you're not learning at your job every day, then it's probably not worth being there.
Read the first On The Rise interview with Haley Hooper here, the second with Geordie Shaw here and the third, with Maria Chen, here.
The ArchitectureNow On The Rise series is generously supported by Resene.