Te Whitinga: the crossing
Hendon footbridge Te Whitinga, which means 'the crossing', will offficially open shortly when tunnel commissioning and testing programmes are completed. The bridge links Alan Wood Reserve with Kukuwai Park as part of the new $1.4 billion Waterview Connection.
Warren and Mahoney, in partnership with The Well Connected Alliance, took the architectural lead in the 300 metre footbridge, a pedestrian and cycle route across the Northwestern motorway.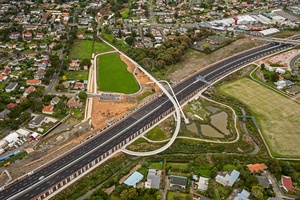 It is an integral part of the Waterview Connection, designed and built by the Well-Connected Alliance for the NZ Transport Agency to complete Auckland's Western Ring Route motorway network.
Community engagement was an essential driver of the design process. "There was huge public interest in this infrastructure development and liaising with board members and residents gave us the opportunity to do something transformative, and to be aspirational for the local community," says Shannon Joe, project designer.
Designed using 3D parametric modelling, the bridge has an elegant sculpted arch in white steel which supports a suspended deck on steel cables. The non-parallel alignment of arch and footbridge allows the deck to 'float' in space.
"It's a simple but definitive form which marks the entry to a tunnel that is one of New Zealand's most technical, innovative and ambitious ventures in infrastructure advancement," says Shannon.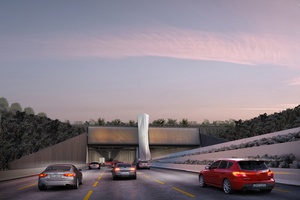 Warren and Mahoney was also responsible for the ventilation stacks and portals at the entry to the Waterview Tunnel, as well as the ancillary buildings that service the development.
Mirror-image ventilation stacks at the northern and southern ends act as the portal's dividing walls. They are significant markers, a "pou" staked into the ground, which can be seen from afar on approach. Auckland's volcanic field was the metaphor that informed the design.
"There is endemic recognition of the geographical and cultural history in the scheme," explains Tom Locke, project architect. "On a global scale, bridges and other infrastructural elements have become icons of place. This is infrastructure that moves beyond bland, purposeful design to something the city can be proud of."
Te Whitinga has recently been shortlisted for an international Footbridge Award 2017 in the long span category. The winner will be announced at the conference in Berlin, Germany on 6 September.