Winners: Hays NAWIC Excellence Awards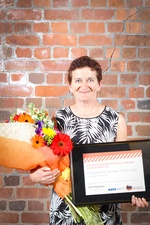 Winners of the second annual Hays National Association of Women in Construction (NAWIC) Excellence Awards were announced on Thursday 15 September at an awards ceremony at Mac's Function Centre in Wellington.
The awards celebrate the outstanding achievements women are making in New Zealand's construction industry. With 10 per cent yearly growth rates predicted through to 2019 it makes sense to encourage more women to work in construction and to highlight career paths available in this sector.
Full list of winners below:
Professional Woman of the Year Award
Lynne Makepeace of Fletcher Construction (construction category)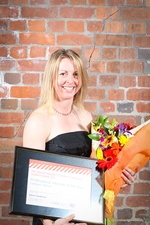 Recognised as an "incredibly effective leader", Lynne leads a team of 180 to ensure that the Auckland's $1.5 billion Waterview Connection project is completed on time, on budget and with zero harm to the team. Her high standards and outstanding team leadership skills inspired the judging team.
and
Karen Sanderson from Beca (professional category)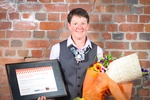 Karen's innovative approach architecture and her commitment to "putting people first" earned praise from the judges. She set up Beca's architectural team in Christchurch and is driven by a humanistic approach to architecture. Karen gives back to her industry by mentoring young architects.
Tradeswoman of the Year
Carmen Sutton from McIntosh Builders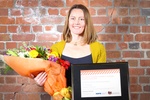 A home renovation project saw Carmen switch careers from truck driving to building houses and she has never looked back. She now leads sole-charge building projects while also training apprentices.
Outstanding Achievement in Design Award
Vanessa Carswell of Warren and Mahoney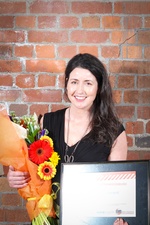 Vanessa employed innovative ideas to resolve complex design issues on the rebuild of the iconic Isaac Theatre Royal. Working in difficult conditions with limited power in Christchurch's red zone proved no obstacle for Vanessa who re-engineered the theatre to expand the functional space by an additional 400m2.
and
Gemma Collins of Fletcher Construction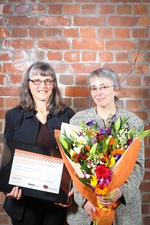 Gemma, who manages a team of 35 building services engineers, is credited with playing a lead role in securing the Commercial Bay contract. The Auckland tower will be the tallest office building in New Zealand when completed. Judges praised Gemma's use of sustainable design solutions and her ongoing leadership in engineering throughout her 25-year career.
Helen Tippet Award
Megan Rule of South Pacific Architecture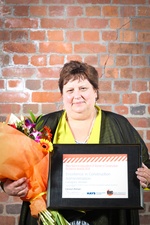 Described as "a role model for women in architecture", Megan won the Helen Tippet Award for actively promoting the participation of women in construction. Megan co-founded Women + Architecture and is actively involved in mentoring younger architects. She leads by example and has made a significant contribution to highlighting the career paths available to women in the construction industry.
Excellence in Construction Administration Award
Carolyn Pitman of Fletcher Construction
Described as the "go to guru" for policies and processes, Carolyn successfully deals with a wide range of subcontractors and plays a pivotal role in her team.
Apprentice and Student Award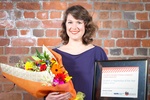 Vanessa Coxhead of Victoria University School of Architecture (professional category)
Vanessa was lauded for her entrepreneurial approach to architecture and her ability to showcase the values of architecture to the wider community.
Natalie Thornton of City Decorators (trades category)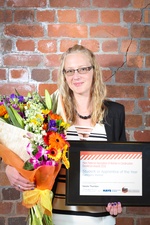 A desire to create a better life for her family led Natalie to take up an apprenticeship. She is highly motivated and often has full responsibility for painting an entire house. Now in the final stages of her apprenticeship, Natalie is focused on eventually leading her own crew. 
Highly commended and special merit awards were given to the following:
Rula Alatia (Jasmax) – highly commended – Professional Woman of the Year (professional category)
Sarah McDonald (Fletcher Construction) – highly commended – Professional Woman of the Year (construction category)
Antonia Speight (Acuite) – special merit – Professional Woman of the Year
Flavia Wolf (Fletcher Construction) – special merit – Professional Woman of the Year
Nicola Thompson (Fletcher Construction) – special merit – Professional Woman of the Year
Mi'easha Saunders (Venture Developments Ltd) – highly commended – Tradeswoman of the Year
Sarah Bryant (Jasmax) – highly commended – Outstanding Achievement in Design
Deirdre Johns (EcoChill) – highly commended – Helen Tippett Award
Alex Cutler (NZ Green Building Council) – highly commended – Helen Tippett Award
Karin Cunningham (Plumbing World) – highly commended – Excellence in Construction Administration
Susy Pryde (Johnstone Construction) – highly commended – Excellence in Construction Administration
Georgia Bartley (Victoria University School of Architecture) –highly commended - Apprentice and Student Award (professional)
Lydia Stewart (Aaron Stewart Builders) – highly commended – Apprentice and Student Award (trades)