ADNZ Medium Density Housing Summit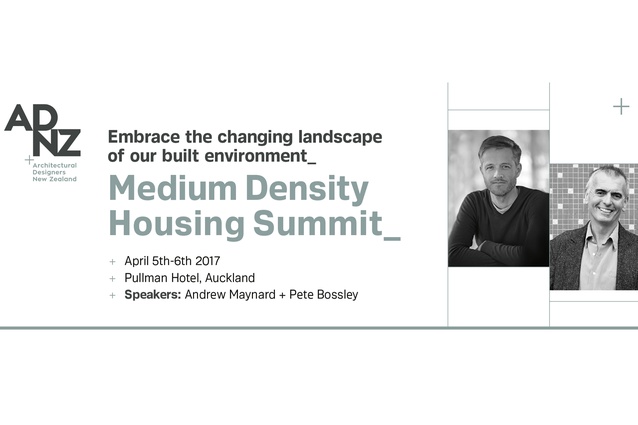 Medium density housing across New Zealand cities is on the rise – nearly 60 per cent of new consents in Auckland city and inner city suburbs over the past year have been for medium density construction.
The Medium Density Housing Summit will cover everything you need to know to ensure that you and your practice are prepared for and understand the challenges faced when designing 3–6 storey structures.
Learn from experts in their fields about why we need to be embracing medium density, the importance of acoustics, and the legislation and regulations around fire, weather tightness, structure and cladding.
Be inspired by leading international and local architects as they showcase how medium density design can be creative and exciting while also benefiting the environment and enhancing the communities we live in.
PROGRAMME
Day One: Wednesday 5 April: 9am – 4.30pm
Andrew Maynard, Austin Maynard Architects
Melbourne's Nightingale example – challenges in relation to planning process and views on design
Dr. Duncan Joiner, Chief Architect MBIE
Future – why we as an agency are working on MDH and what it means for regional and national planning
Gerald Blunt, Project Manager MDH programme
Overview – general issues of MDH which necessitate a particular approach to design
Mark Todd, Ockham Residential
The central design issues of Medium Density Housing
Michael Belsham, Chief Fire Engineer MBIE & Christine Duncan, Fire Engineer MBIE
Fire regulations – Fire safety design and standards
Yasmin Merwood, Advisor MBIE
Acoustics – how to design for close proximity of neighbours and the potential for greater noise effects
Building Code [TBA]
Regulations – challenges with weather tightness, structure and cladding
Day Two: Thursday 6 April: 9am – 4pm
Pete Bossley, Bossley Architects
Design Exemplars – International and local projects that adopt interesting approaches to the development of medium density living
Verney Ryan, Beacon Pathway
Designing for your community – sustainability, efficiency and environmental factors
Cymon Allfrey, Cymon Allfrey Architects
Practice Management – Ensuring you have the right team, skill sets and are prepared as a practice
Nicholas Dalton & Stirling Burrows, TOA Architects
Integration of culture – Designing for different cultural groups and incorporating social requirements and needs
Lawyer [TBA]
Property Law – Issues of boundary definition, bodies corporate and maintenance
More information and registration for the summit here.