City Talks: Malcom Walker – I bought a building, did I mean to do that?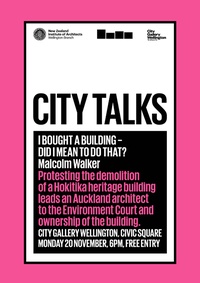 The next City Talks takes place on Monday 20 November and is titled Malcom Walker – I bought a building, did I mean to do that?
A somewhat primitive application was made to demolish a favourite and significant building in Malcolm's home town and approved in an equally primitive decision making process. 
Malcolm took the local Council to task over this decision and process and found himself in the Environment Court, which somehow morphed into him unexpectedly buying the building in question, as well as four other associated buildings.
He consequently found himself the owner of half a town block in central Hokitika. It was a completely uneconomic thing to do but encompasses a problem that many provincial towns have with their significant buildings and Malcolm and his associates are trying to shape something sensible out of it. He himself admits "Who knows where it will end up?"
Malcolm is an architect, cartoonist and director of his practice Malcolm Walker Architects.
Malcolm was raised in Hokitika, New Zealand. He received his bachelors degree in
Architecture from the University of Auckland, School of Architecture, in 1976. He formed his
Auckland practice Malcolm Walker Architects over 30 years ago and together with a small
team carries out renovations, new work and small commercial projects.
Free entry. 6pm start, followed by refreshments.