Partner news: Cult Design is expanding into the production, manufacture and retail of Australian design with the launch of NAU; a contemporary Australian design brand offering furniture, lighting and accessories by a collective of Australia's most esteemed designers including Adam Cornish, Adam Goodrum, Gavin Harris and Jack Flanagan.
In 2014, Cult Design launched its first exclusive collection of Australian furniture; the AG x Cult capsule by acclaimed designer Adam Goodrum. Since then, Cult's product development has grown significantly and these designs are now being established as one brand – NAU.
The NAU collection features designs suitable for both residential and commercial spaces, from elegant lounge furniture to modular shelving.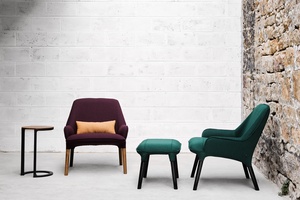 NAU launches internationally at ICFF in New York (21–24 May) and in Australia at DENFAIR in Melbourne (8–10 June). Following these trade launches, the NAU collection will be the focus of a series of retail and media launches at Cult showrooms across Australia and New Zealand in late June.
Richard Munao, owner and managing director of Cult and founder of NAU, comments, "After more than 20 years in the design industry in Australia, I have grown an unwavering passion for the production and manufacture of Australian furniture. I truly believe we are at the cusp of a new Australian design movement, and I am incredibly proud to introduce NAU to the market and promote Australian creativity to the world." 
View the full NAU catalogue here.