Entries open: 2017 Dulux DIAlogue on Tour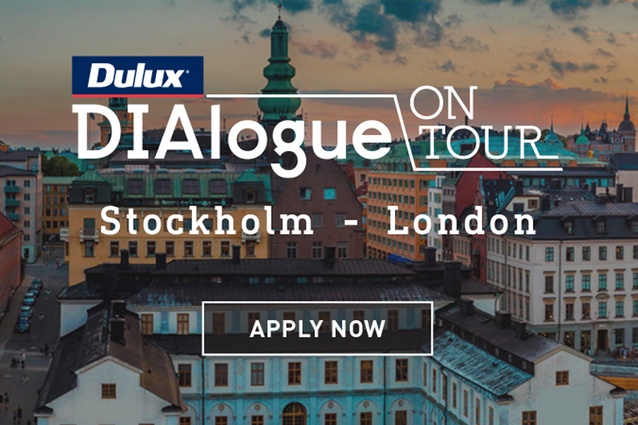 Dulux has announced that entries are now open for the 2017 Dulux DIAlogue on Tour – a design tour in collaboration with the Design Institute of Australia (DIA) and the Designers Institute of New Zealand (DINZ).
DIAlogue on Tour is an inspirational expedition, exclusive to DIA and DINZ members across Australia and New Zealand.
The tour will take the five winning design professionals – four from Australia and one from New Zealand – to London and Stockholm in September, where they will meet and learn from European and Scandinavian design talent and attend the 2017 London Design Festival.
Dulux are looking for a talented design professional who would like the chance to revitalise and re-inspire their design career. The winners will engage in open dialogue and share ideas and viewpoints with their hosts while showcasing the talent coming out of Australia and New Zealand.
Jevan Dickinson, general manager Dulux NZ says, "Dulux are excited about supporting this opportunity for like-minded designers to collaborate and share ideas and perspectives. This experience will help the professional growth of these designers by immersing themselves in this once-in-a-lifetime cultural opportunity."
Cathy Veninga, chief executive of the Designers Institute of New Zealand says the Dulux DIAlogue on Tour is an extraordinary prize for any designer to receive: "especially a designer in mid-career looking for international inspiration to re-energise their career back home."
Winners will be selected by answering questions that address their contribution to design practice and thinking, personal design philosophy and what inspires them.
Entries close on Monday 3 July.
Find out more here.
Read the review of the 2016 DIAlogue on Tour trip by Keri Cunliffe, last year's New Zealand winner.