Following the success of last year's instalment, five finalists have been announced for the Brick Bay Folly 2017 competition to design and build a temporary architectural folly at Brick Bay, Snells Beach, north of Auckland.
Te Takitaki – by Tom Dobinson and George Grieve from Patterson Associates, and Sophie Edwards and Jayne Kersten from Jasmax – draws inspiration from the structure of a Māori palisade, a fence that assisted in the fortification of a key piece of land.
The Lost Kina, by Thomas Seear-Budd and James Ross, graduates from Studio Pacific Architecture, uses 625 neglected road cones to compose a structural object standing approximately 8m tall.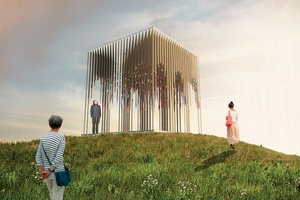 Arcadia emulates a typical visual language of an 18th or 19th-century garden folly with reference to a Gothic vaulted archway. Rachael Piper and Ji Hye Lim from Warren and Mahoney Architects designed this concept.
Tickled Pink, designed by Hannah Manning-Scott from Auckland Art Gallery and Cameron Deynzer from Glamuzina Architects, incorporates interior chambers that focus the visitor's attention onto different parts of the landscape.
An Appellation of Air locates itself within and of the environment, with its form and fluctuations defined through the passing impressions of the wind and the hands of visitors. It is designed by Nick Denton of Studio Pacific Architecture and Guy Newton from architecture +.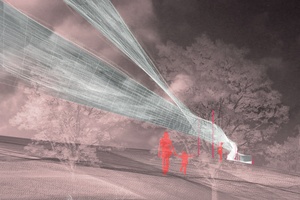 The aim of the Folly award is to support young and emerging architects, or students in accredited New Zealand architecture programmes, to explore the intersections between architecture and sculpture, and the increasing overlap between the two disciplines.
This year, the jury consists of Richard Didsbury and Jonathan Organ from Brick Bay, Karen Warman and Joanne Duggan from Resene, Richard Harris from Jasmax, Justine Harvey from Architecture New Zealand, Greg Pritchard from Fletcher Building, Tony van Raat from AUT University and Ryan Mahon, the 2016 co-winner.
The 2017 winner, to be announced shortly, will receive an overall $35,000 grant towards realising the proposed project, including $15,000 from Resene, $10,000 in building supplies and services from Fletcher Building, and up to $5,000 worth of labour from Brick Bay Sculpture Trust.
The finished project will be installed in early March 2017 and will be exhibited at Brick Bay for a period of two years.