Quirky, eclectic, idiosyncratic; the interior of Seashore Cabaret on Petone's foreshore provides much more than a well-brewed coffee. The retro fairground/amusement park decor, blended with industrial and a smidgeon of diner, is visually intriguing, and, going by online feedback, is a major draw card for the clientele.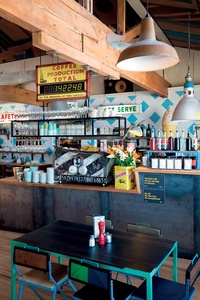 Located above the Petone Rowing Club, built early last century, the café is busy even on one of Wellington's wettest days, and the views of Somes Island, Petone Jetty and Wellington harbour are fantastic.
"The overall look of the place reflects my obsession with collecting things over the years," says co-owner Matthew Wilson. "My garage is full of what friends call my broken dreams, so I've brought some of them [no longer broken] to the café."
At the top of the stairs, a coin-operated Watling machine offers weight and fortune assessments. Wilson sourced that from a Petone chemist. Lady Luck gives augurs from a slot machine, and on a far wall, the Madonna, surrounded by electric candles, blesses the new coffee-roasting side of the business, Good Fortune Coffee – the first coffee roaster in New Zealand to receive a living wage accreditation.
Other unexpected objects include a massive town clock from Kerikeri; crazy circus mirrors, a tap beer server with feet for handles, retro-style signage, stuffed marlins (one of Wilson's now sated passions), trophy heads and more.
Wilson is hands-on in his café businesses (he makes coffee most days) and hands-on in their design and fit-out. Having already designed four highly successful cafés he set about reconfiguring and furnishing this 500m² warehouse-like space with help from friends in the design and building industries.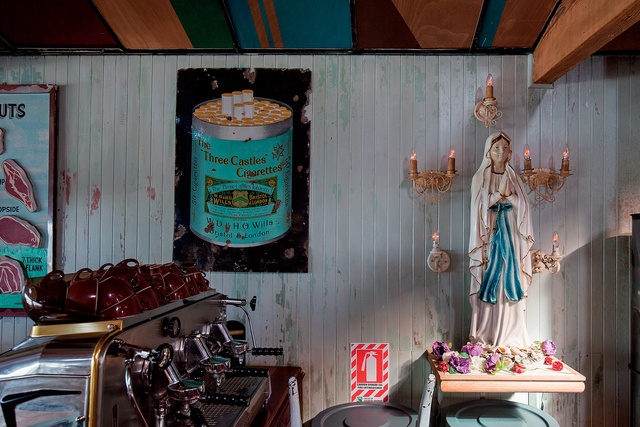 The dropped ceiling was removed, and Wellington artist and designer Mark Ussher created the colourful, more or less random geometric pattern for the plywood ceiling panels. The high stud and a large, uniform ceiling would have been overwhelming, so the idea was to break it up, echoing the colour and variety of the décor below. The ceiling creates another point of interest, also linking geometric elements throughout, such as the roof trusses, the diamond floor pattern at the back and on the kitchen walls, glimpsed through a sizable hatch.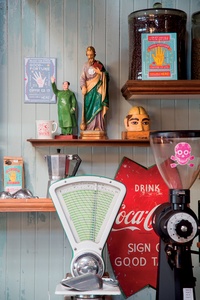 "It was quite a loose design. Matt has a keen eye for detail so, as a designer, I could leave them to it, confident that any changes they made would work well. It was very relaxed," Ussher says. He and Wilson also made a feature of the stairs, painting slogans on the risers and the wall display of old black and white photographs give the café a fictitious backstory.
To break up the room, Wilson put in two booth areas. The back row, placed along one side of a raised platform gives people a view of the sea and doubles as a stage and play area for children. A line-up of pinball machines, which Wilson has collected since he was a teenager, fill up extra space and reduce the number of seats, relieving pressure on staff.
The steel chairs and tables are unique designs by Wellington furniture designer-maker Andrew Missen, who has created furniture for Wilson's other cafés. Missen who had just returned from three months in Eastern Europe said he designed "what was in my mind after the trip – utilitarian, industrial, straight lines."
The unusual tilting backs, made from varied sources such as metal signs, give the lower back a good stretch. The leather seats are from scraps Missen acquired at a Japanese textile shop in Kilbirnie. The furniture is all handmade in Wellington, and every piece is different. 
Missen also designed the large adjustable industrial-style lamps that hang above the tables. The coffee machine façade is one out of the box, or in this case, out of a Fletcher Steel scrap metal bin that Missen salvaged in Petone because he liked the patina. The frontal feature, an old alarm bell, adds to the general quirkiness of the place.
PART OF THE FURNITURE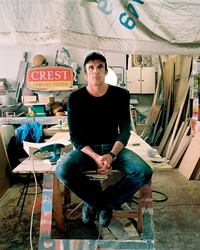 Designer Andrew Missen lent some of his furniture and light-fixture-making skills to this project.

A trip to Poland and Germany last year is the inspirational backdrop to Andrew Missen's designs for Seashore Cabaret. The Wellington-based furniture designer and maker said the shipbuilding city and port of Gdansk was a particular highlight. "I like the brutalness of quite a lot of their stuff like gates and bits and pieces made from scrap metal by their shipyard welders. I found the whole city really fascinating. It's obviously a city of workers."
All Missen's work is original; however, he acknowledges, "you just get influenced by bits and pieces. There are lots of huge cranes on the skyline at Gdansk. But any project I take on I'll make furniture that's unique to the place."
For Missen it is very much 'vive la difference' because he makes all his furniture by hand and "it gets pretty boring making the same chair 150 times." He likes the 'roughness' of the manually made look and deliberately hand painted the steel chairs so that the inevitable runs and brush marks would be visible. "Powder coating gives a much more sterile finish. I think people are a bit over the highly finished sterile look of a lot of interiors now. They are more into something that looks as if a real person [made it]."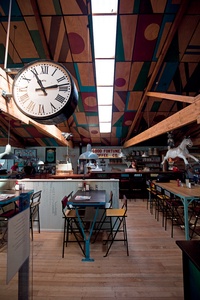 Furniture making is labour intensive; the many different components require a lot of welding. The chair seats, made from various materials he had collected, fit in a steel frame, cantilevered and supported off the back. The chair backs, made from more metal 'bits and pieces', have a handle. He liked the look, and they allow the heavy steel to be lifted and moved around more easily.
Missen chooses colours serendipitously at the local hardware shop and tries them out. The colours for this job are more muted, less intensely colourful than those he used at Maranui café in Lyall Bay, previously co-owned by Wilson. "If I don't like it, I'll paint over the top. There's not a huge amount of thought went into the colours [at Seashore Cabaret], just as long as they aren't the colour of the day, like at the moment everyone is painting everything gold."
Missen loves industrial lamps and has a large personal collection. The 1940s lampshades are enamel, and Missen made the bracket, arm and hanging mechanisms. The four big shades above the counter are from a railway shed in Rangiora, where he drove to collect them.