2016 Interior Awards: winners announced
The much-anticipated 2016 Interior Awards evening took place at the beautiful St-Matthew-in-the-City, Auckland, on 23 June. New Zealand's commercial interior industry assembled for the social awards and networking evening, where the 10 prize winners of 2016 were revealed to a festive crowd.
The awards were presented across nine main categories: Retail, Hospitality, Workplace (up to 1,000m2), Workplace (over 1,000m2), Civic, Installation, Craftsmanship, Emerging Design Professional and Student. 
SUPREME & RETAIL AWARD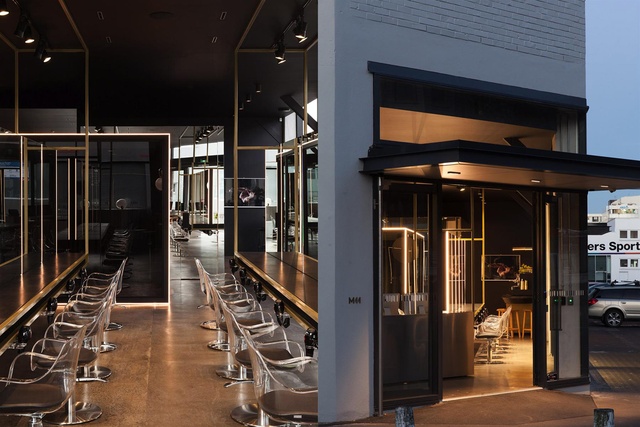 The coveted Supreme Award and its corresponding $6,000 cash prize were presented to Hare Interiors for M11 Studio in Auckland's Newmarket. Hare Interiors also took away the Retail Award.
A rework within an exposed original concrete, louvered glass and brick shell, this unique, contemporary high-end hair salon draws inspiration from the minimalist art forms and mirrored box-like sculptures of Donald Judd and Robert Morris. The judges commented that, "there is a controlled palette of black, smoked and mirrored surfaces that offers up varying degrees of transparency and translucency… this is a confident interior that goes well beyond trends in search of highly stylised solutions."
HOSPITALITY AWARD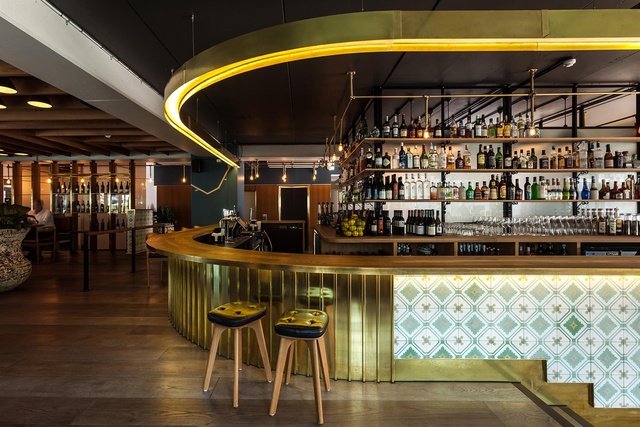 The intensely contested Hospitality Award was awarded to ctrl Space for The Glass Goose, which involved the refit of an impossibly dark space ruptured by a large set of stairs through the centre of the plan. Now, The Glass Goose's warm indoor space features leather banquettes, colourful tiles and dark wood, balanced by an airy, open glasshouse-inspired terrace. The judges commented that ctrl Space had completely transformed "an otherwise cavernous interior", and that this popular Auckland restaurant is a "glowing example of how intelligent design can turn a challenging space into a highly functional magnet for customers."
WORKPLACE (UP TO 1,000M2) AWARD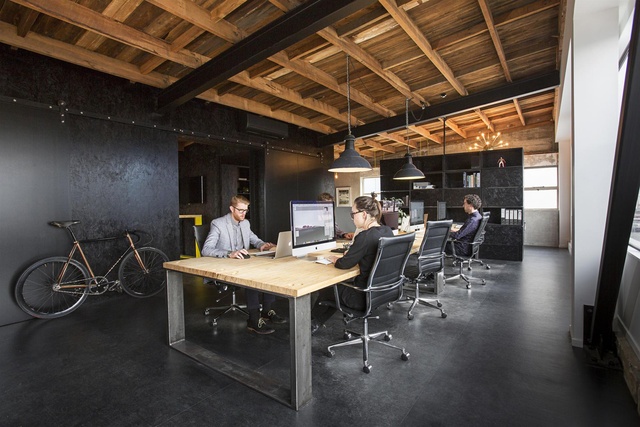 Following on from 2015, the Workplace Award was divided into two categories. The Workplace up to 1,000m2 Award for 2016 was handed to AW Architects for their 190 St Asaph Street. Being able to accommodate multiple businesses into half the previous space while maintaining comfortable areas was key for this Christchurch workplace. Housing architects, designers, interior and landscape architects, the space needed to reflect its inhabitants and their design ethos with inherent flexibility. AW Architects have succeeded on all of the above counts, with the jury stating, "Ingenious space planning and the judicious use of colour produce an unexpected cross between grunge and minimalism; between bohemian art studio and a successful hovel of creativity."
WORKPLACE (OVER 1,000M2) AWARD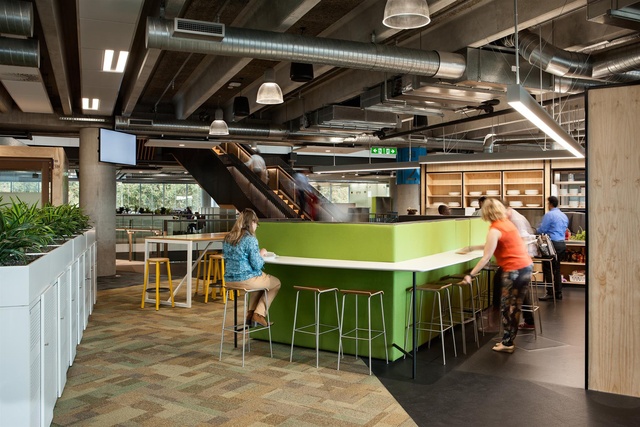 Jasmax took the accolade for the over 1,000m2 Workplace category for their impressive Future of Work - Fonterra Centre headquarters in Auckland. The space focuses on the changing role of the workplace and integrates Activity Based Working and a palette of natural materials while also deftly weaving architecture, interior design, corporate and national identity into a "true testament of the designer's deep understanding of the dairy giant's core values, branding and its relationship with rural New Zealand."
CIVIC AWARD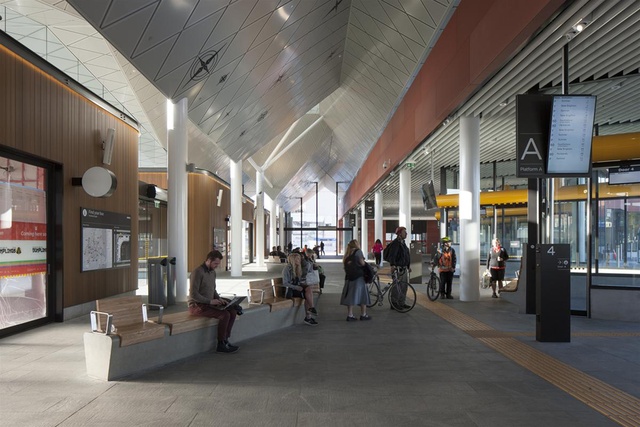 Architectus took home the Civic Award for the Christchurch Bus Interchange - Whakawhitinga Pahi. For this important public building, strong attention has been paid to the 'porous' design that connects the interior to the street via multiple entry points and continuity of materials. At once comfortable and practical, the bus interchange features a variety of waiting spaces with high attention to their detailed design. "This project is an impressive and meticulously-devised space, full of clever and often invisible design solutions that work well for the people it is meant to serve," commented the judges.
INSTALLATION AWARD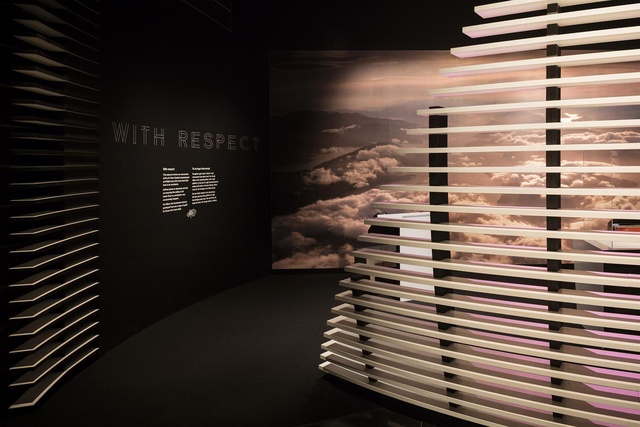 Workshop e has created a sophisticated, comprehensive installation design with their Air New Zealand 75 Years exhibition, which won the Installation Award. Featured in two temporary museum spaces (Te Papa and Auckland Museum), this exhibition uses both technology and storytelling techniques to tell our national carrier's story. 75 years' worth of aviation history and artefacts come together in an extremely compelling manner, and when "combined with deft spatial planning and sophisticated industrial design", the exhibition successfully reflects Air New Zealand's innovation and creativity through the years. 
CRAFTSMANSHIP AWARD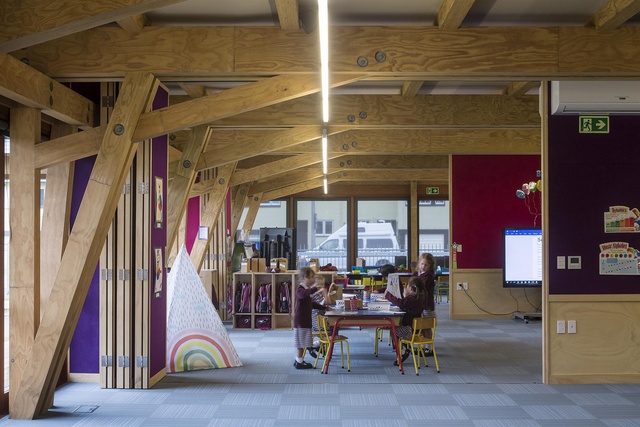 The Craftsmanship Award went to Andrew Barrie Lab & Tezuka Architects for the Cathedral Grammar Junior School - Timber Structure. A technically demanding, innovative project, the Laminated Veneer Lumber (LVL) structure of this project pushed the limits of new CNC timber manufacturing technology using traditional timber joints rather than the steel normally required for pieces of such size. "This is a very telling example of what craftsmanship looks like in the 21st century: an extremely skilful and innovative integration of contemporary technology with traditional techniques and materials," said the jury. Excellent communication with various experts and rigorous documentation ensured the success of this structure.
EMERGING DESIGN PROFESSIONAL AWARD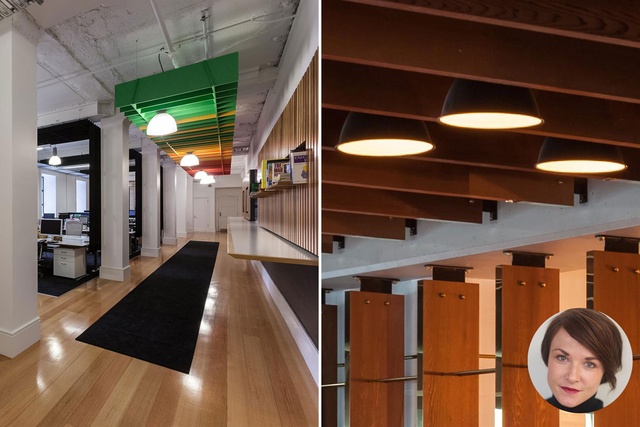 The 2016 Emerging Design Professional Award was won by the talented Samantha Scrymgeour of ctrl Space. She impressed the judges with her "well-thought-out design philosophy" and an "infectious passion for her craft". Scrymgeour has been involved in projects such as the EIT Te Manga Maori Faculty redevelopment and Napier Port Administration building with Paris Magdalino Architects, and The Glass Goose, Auckland and FCB Wellington offices with ctrl Space. The judges had this to say: "Scrymgeour's ideas on partial privacy and her focus on material exploration, and the careful integration of old and new, point to attention to detail and imaginative thought." A $1,500 cash prize was also presented to Scrymgeour as part of the Emerging Design Professional Award.
STUDENT AWARD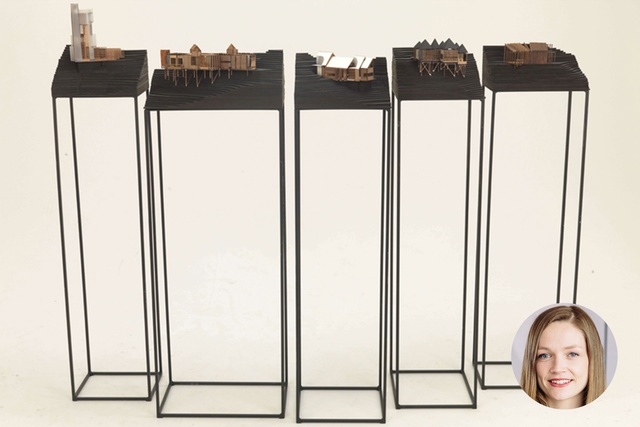 In the Student Award category for 2016, Kate Turner of The University of Auckland was up against some strong competition. However, her highly creative, thoughtful project The Fictional Generator took home the prize on the evening. Inspired by the award-winning novel The Luminaries by Eleanor Catton, Turner has brought the text into three dimensions through carefully-crafted drawings and models of both architectural and interior spaces. The judges were more than impressed with Turner's project in a category that was bursting with original and well-researched work. They commented, "Turner came to the fore due to her ability to listen to her 'imaginary client' (the author), and a near-cinematic talent to bring the result into fruition."
Extended coverage and full jury citations for the 2016 Interior Awards winners can be found in the June 2016 issue of Interior magazine.